Atlantic Grease & Lubricants (AGL) is part of the Atlantic Group of companies and has been involved in the lubricants and grease industry for the last 60+ years.
As a company, Atlantic Grease & Lubricants is continually looking to develop business, striving to contribute to our society, customers, and environment. Our business operations are divided into manufacturing, lab testing, and allied products of lubricants. We are proud to have certifications from 25+ OEMs in the automobile industries including Mercedes, Volkswagen, and Porsches. We are more focused on finding business ways to meet the evolving needs of our customers with our distribution cycle in 60+ countries including Asia, the Middle East, Africa, South America, Europe, and Australasia.
At AGL, we are more focused on adhering to international business specifications and ensuring that our products meet the highest quality standards. Our state-of-the-art lubricant manufacturing facility in Hamriyah Free Zone, Sharjah, UAE, is fully equipped with the latest technology and equipment to bring out the finest products.
AGL has established a strong reputation in the lubricant industry over decades. We take pride in our unmatched expertise and knowledge of the industry, which we leverage to assist our customers in improving plant productivity, prolonging equipment life, enhancing efficiency, and minimizing wear and tear.
Our state-of-the-art blending unit features cutting-edge storage, blending, and filling machinery, as well as a technically advanced laboratory, ensuring that our products meet the highest standards of quality and customer satisfaction.
Our management team is composed of highly skilled individuals with diverse educational and technical backgrounds, committed to providing exceptional service and ensuring customer satisfaction.
At Atlantic Grease and Lubricants, we maintain strict quality control standards, evidenced by our ISO 9001 certification. Our products guarantee superior performance and rejuvenation without compromise throughout the production and distribution cycle in 60+ countries.
Our focus on continuous development and innovation ensures that we remain at the forefront of the industry, delivering solutions that address the evolving needs of the lubricant market.
As a reliable business, we strive to conduct our operations in a manner that is economically, environmentally, and socially responsible.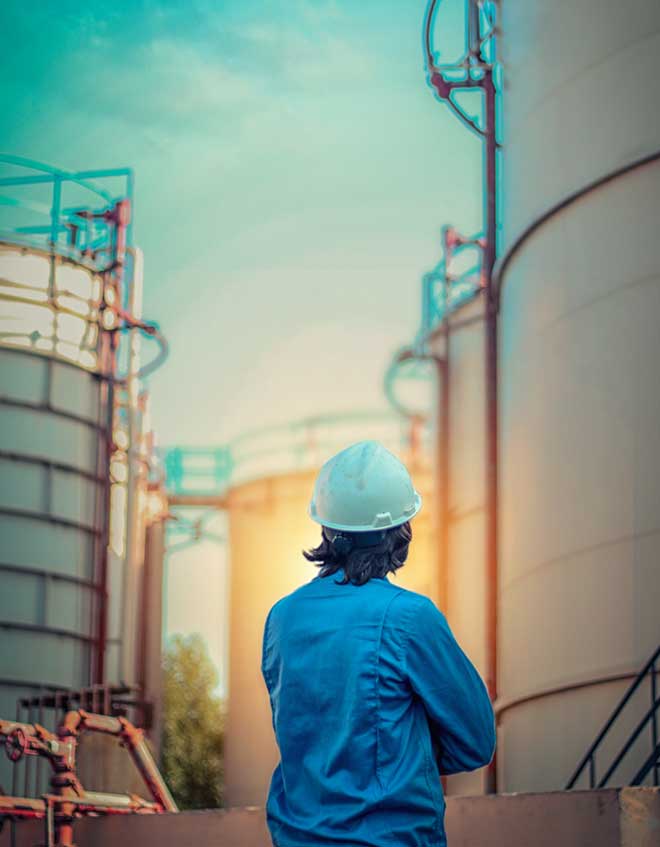 Our company is driven by a vision to deliver the highest quality lubricants to consumers worldwide while promoting a philosophy of Lubricating Towards The Future. We believe in creating value for our customers by offering high-quality lubricants with a business-centric mindset.
Our commitment to excellence is reflected in everything we do. From product manufacture to customer service, we strive to deliver the best possible experience. We believe that our success is tied directly to the satisfaction of our customers, and we work tirelessly to ensure that every customer is completely satisfied with our products.
Our focus on environmental sustainability is an integral part of our vision. We believe that it is our responsibility to minimize our impact on the environment and to promote sustainable practices wherever possible. By offering environmentally friendly lubricants, we are working to protect our planet for future generations.
At our group, we embrace diversity and strive to create an inclusive culture where individuals from different backgrounds and languages can thrive. We prioritize building trust and respect among our team to foster growth and empower everyone to shape a better future together.
At Atlantic Grease & Lubricants, our mission is to accelerate business transition with a sustainable future in mind. Our strategy, called Lubricating Towards the Future, is designed to deliver value to our customers, and the wider society as a whole. Our focus on sustainability is not just about fulfilling today's lubricant needs for industries but also about finding renewable resources for future generations.
Our vision as a brand is to leverage business insights to provide valuable products that generate success for its customers and users.
Moreover, we are committed to sustainability and reducing the environmental impacts of our production. With our dedication to performance, nonstop development, and sustainability, we view AGL as being the top company that comes to the mind of our customers when they need lubricating their machinery in any region of the world. So our vision is to provide a one-window solution to our customers according to their needs.
At ATLANTIC Lubricants our technical abilities, in-depth knowledge and extensive expertise mean that we can work with customers to produce specialized products and lubrication solutions. Our expert teams work in state-of-the-art laboratories to tailor solutions to specific customer needs by modifying existing products, or developing new ones. This helps our customers compete in what is an increasingly competitive business environment.
In addition, we offer an unrivaled level of after-sales technical support to our customers, delivered by a highly skilled and experienced team working with the latest equipment. This allows us to deliver prompt and effective solutions.